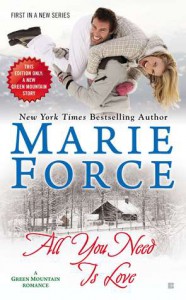 I'm primarily familiar with Marie Force through her Fatal romantic suspense series. I like her writing and I was curious to try her small town romance. Even though she sometimes makes family life in Vermont look a little too perfect, All You Need is Love is a fun, engaging book and I could see fans of novels such as Shannon Stacey's Kowalski series lapping this one up.

Cameron Murphy has come from New York to meet with the Abbott family of Butler, Vermont about an idea to build a website for their Green Mountain Country Store (and yes, this place is a lot like the real-life Vermont Country Store.) Her trip into the wilds of Vermont hits quite a snag when she runs into Fred, the town moose. Fortunately, this is a light-hearted story, so Fred is unscathed while the car takes the worst of it.

Cam's first challenge comes in convincing the Abbott family to hire her to build their website. As it turns out, the Abbott siblings aren't completely in favor of their father's idea and question whether bringing their business online will help or hurt it. The Green Mountain Country Store, after all, is a rural, small-town business. In the end, Cam ends up staying to work on the website and Will seems to get over his mistrust of big-city women long enough to fall hard for her.

And that's where I started to worry. After all, the big conflict in this book seemed at first to be Will Abbott and his siblings not being happy about Cam's presence and building of a website. However, that gets taken care of early on, letting Cam and Will get closer to one another without too many cares in the world.

This is a partial review. You can find the complete text at All About Romance.